Apex Canine
Life changing freedom and peace of mind for your family through personalized and compassionate training for your dog. 
Let's Train Your Dog!
bottom line
A well-trained dog is wonderful.
Whether you've had your dog for years or your family has recently adopted a new pup, having a well-trained dog can make your life more exciting and enjoyable. On the other hand, behavioral issues and lack of training can prevent you from being able to enjoy your dog and the activities you'd like to share. 
I offer balanced positive dog training and boarding in Woodinville, Bothell, Snohomish, and the surrounding Seattle East Side, Washington areas. I provide a three-week intensive board and train program to help your dog eliminate undesirable behaviors and learn useful ones. When your dog trains with me, he or she will be transformed into a confident and well-behaved member of your family.
An untrained dog can be a hindrance, not a joy.
An untrained, anxious or aggressive dog can be more of a hindrance than a joy. Maybe your pup doesn't feel like a joy right now. Actually, they feel like a burden. Some common issues that I've seen:
• She has separation anxiety and chews on your nice furniture.
• You can't relax and eat at outdoor restaurants because he won't sit still.
• If she sees another dog or animal, she'll take off and won't come back, so you have to keep her on a leash.
• A hike isn't beautiful and relaxing with a dog who is lunging at the passersby.
• He's out of control, and you're concerned that he'll bite a person or another dog.
I've seen this all before…and helped!
Imagine a world where:
• Your dog walks or runs off-leash next to you and ignores other animals.
• While you're drinking coffee, she's patiently lying at your feet, not jumping up.
• You're not stressing that you'll come home to chewed shoes, a shredded sofa, or gnawed table legs.
• When someone knocks at the door, he barks, goes to his place, and waits quietly until you give him permission to come greet your guest.
I've seen this all before…and helped!
Imagine a world where:
• Your dog walks or runs off-leash next to you and ignores other animals.
• While you're drinking coffee, she's patiently lying at your feet, not jumping up.
• You're not stressing that you'll come home to chewed shoes, a shredded sofa, or gnawed table legs.
• When someone knocks at the door, he barks, goes to his place, and waits quietly until you give him permission to come greet your guest.
This world can be a reality.
When your dog is confident and under your control, your life is no longer restricted, but enhanced by your dog. When they board and train with me, I teach all the skills your dog needs to be a harmonious part of your family – and more. He'll learn what his job is in any given situation. He'll learn basic residence skills and will have the foundation to work toward being  entirely leash-optional. You won't need to worry about him on outings, and he'll be easier to exercise. Well-exercised dogs are happy dogs, and happy dogs have happy owners.
I work with your canine companion with compassion, patience, and confidence gained from more than 20 years of boarding, training and competing with dogs. Each dog gets three weeks of personalized and thoughtful dog training plus daily exercise and play while they board with me at my home. I start by teaching skills with a clicker and food rewards, then, when the dog is ready, I introduce them to an e-collar to reinforce commands so that they can work toward being entirely leash-optional and still be fully obedient.
All dogs I train will learn basic obedience:




I then collaborate with each dog and their family to learn what additional training they'll need for outings, such as:


hike, walk, run next to a bicycle or horse


walk or run on a treadmill


I follow the same principles with every dog I train, but I use a personalized approach that takes each dog's individual temperament and needs. Each dog is different, and each dog requires a slightly different training path to leash-optional obedience.
After the three-week board and train program is complete, I then work with the family to teach them the skills necessary to maintain, reinforce and continue to build upon the good behaviors the dog has learned.
services
My Training Specialties

basic on and off-leash obedience
Basic commands in both a calm, household environment and also in high-distraction situations such as a busy street or park. I train your dog to be well behaved while at home and obedient for off-leash exercise. 

specialized obedience
Specialized training tailored to the needs of your family. I teach your dog specific behaviors based on your family's activities. For example, running alongside a horse or bicycle on a trail or remaining in a calm down position during a child's soccer game. Your dog will also learn how to walk and run on a treadmill for an additional exercise option.

therapy dog training
Training for certification as a therapy dog in hospitals and care facilities. Your dog learns how to be calm and gentle around people with crutches, walkers, and wheelchairs, not to overreact to startling noises, and to move carefully through groups of people.

puppy training
The best foundation for a family and their dog is a trusting relationship right off the bat! I train your young pup basic and off-leash obedience in both a calm home environment and in high-distraction environments such as a park or farmers' market.  Beginning training early with your puppy means that they develop good habits and behaviors right from the start!

French ringsport
French Ringsport is a challenging sport that requires a great deal of dedication and training.  High-energy dogs that need a job often find this sport to be incredibly exciting and satisfying. If you're new to the sport, I can introduce you and your dog to the different exercises to determine if it's a sport you'd like to pursue. If you've already got some experience, I coach you and your dog to become a more cohesive and effective team so that you succeed more on the trial field.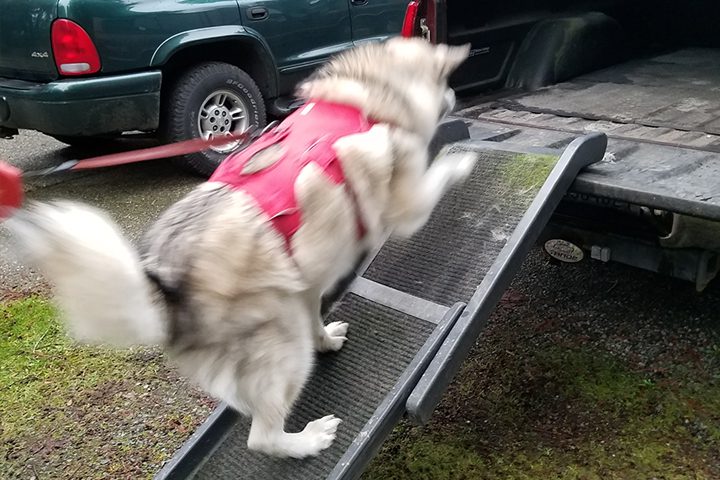 Linda, Woodinville WA     ★★★★★

We adopted a 2 year-old malamute, looking forward to a lot of hikes with her. Turns out she was terrified to get into the back of our pickup truck – even with a ramp. Shannon came to the rescue and within about a week, Kody was going up the ramp without any problem. (And still does.) The training was gentle, methodical, and completely successful. I don't know how we would have gotten this accomplished without Shannon!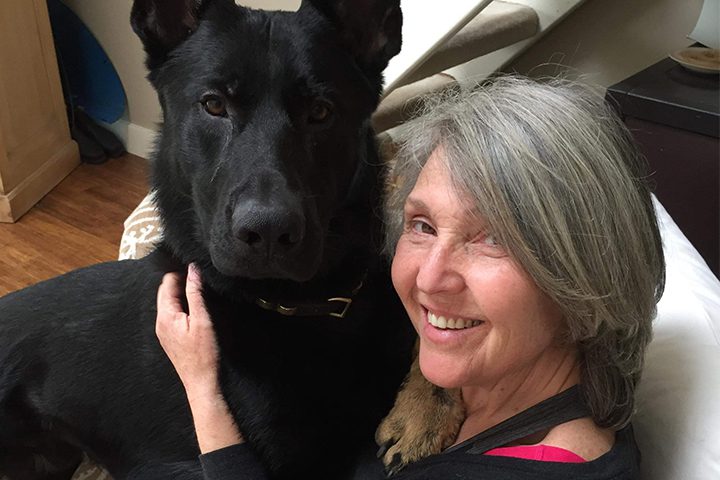 Susan, Langly BC     ★★★★★

Shannon is an accomplished dog trainer as well as competitor and judge; her coaching style is really clear and direct. If you want your dog to be a part of family activities, kids' soccer games, camping, hiking, etc., Shannon is the trainer you're looking for. Her training style is balanced and really clear for dogs and their humans. She has really helped me to understand my relationship with my dogs and how to shape it into the relationship I want to have with them so that I can enjoy them so much more!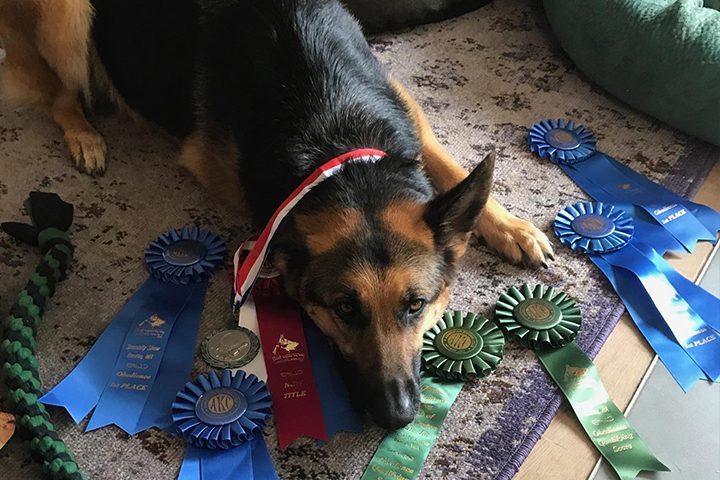 Marla, Woodinville WA     ★★★★★

I started training with Shannon because she's a judge in the dog sport I like – French ring. She helped me learn how to be super clear in my communications with my dog, a German Shepherd named Athena. I also board Athena with Shannon when I have to travel because she stays in Shannon's home and loves the attention she gets from Shannon's 5-year-old daughter.
Freedom and peace of mind
are just a click away.
Start your family's journey to leash-optional obedience today.
I provide dog training and boarding primarily to families all over Seattle's east side –  Woodinville, Monroe, Redmond, Bothell, Everett, Issaquah, Mill Creek, Lynnwood, Bellevue – and everywhere in between.
I'm trainer Shannon Morgan.
Nice to meet you.
I'm a retired engineer who has been training and competing with dogs for more than twenty years. I am an avid fan of French ringsport, and have competed all over the United States and Canada with my dogs and client dogs. I translated the ringsport rulebook from French to English for use in the United States and Canada, and served as a judge for many years.
I love animals, especially communicating with them and helping them learn how to integrate into their human families. Helping dogs and their owners learn to understand each other and work together is one of the most satisfying and fulfilling experiences in my life. And it's a lot more fun than engineering!

frequently raised
questions and concerns
What training methods do you use?
I use a clicker and food rewards to teach all behaviors, and then add low-level e-collar stimulation to reinforce commands and build the foundation for leash-optional obedience.
Positive dog training teaches dogs desirable behaviors through rewards and encouragement rather than punishing them for undesirable behaviors. Positive trainers work to establish a trusting relationship with the dog so that the dog enjoys training and enthusiastically pushes to learn new skills.
Adding in the low-level e-collar stimulation balances the positive dog training to help your dog work toward leash-optional obedience. The difficulty with purely positive dog training is that the reward being offered has to be of higher value than whatever is distracting your dog. This is usually fine inside the house, but given the choice between chasing a squirrel and a treat, most dogs will sprint off after the squirrel!
If you want your dog to be reliable, even without a leash, positive training on its own may not be enough. Training your dog with an e-collar can save your dog from making inappropriate or even dangerous choices
Isn't using an e-collar / remote collar inhumane?
Like any training tool, it depends on how you use it. All teaching is done  with a clicker and food rewards. This allows the dog to be in charge and to show me their natural inclinations, likes and dislikes.
I introduce the remote collar based on what the dog has shown me in our initial training sessions. Once I do introduce the collar, except in life or death situations (e.g. your dog is running toward the highway chasing a squirrel) I only ever use the lowest settings on it to gently stimulate the dog and get their attention. I will never use the shock collar to punish your dog for disobedience or doing something wrong (and neither should you!).
Why do I need to leave the dog for three weeks?
Leaving the dog with me for the three week board and train allows me to work with the dog very clearly and efficiently, and allows them to be completely focused on their new behaviors and habits. When it's time for the dog to go home, we have some follow-up lessons to show you what your dog now knows how to do, how to use the remote collar, and how to continue reinforcing your dog's new behaviors for long-term success.
I don't want to give up my dog for three weeks
Your dog will be well taken care of while they're here. I keep them busy with exercise, play, and learning, so they won't be bored. I'll provide periodic updates, photos, and videos so that you can see your dog's progress.
You are welcome to call or text me if you want to know how your dog is doing, and I'll send an update and a photo as soon as I'm able to do so. You will, of course, miss your dog. But when your dog returns home, you will be able to enjoy them even more than you did before they trained with me!
A 3-week board and train costs lot of money.
Yes, it's a significant investment, but your dog is a member of your family. I teach your dog the skills it needs to become a harmonious part of your family's life. This is an investment in your relationship with your dog – and you'll enjoy the dividends for years to come.
Can't I do this process on my own?
Any dog owner can use a clicker and an e-collar to try to train their own dog, but they're likely to spend a lot of time and energy doing it, and, particularly with the e-collar, it can inadvertently create stress and problems for the dog that are difficult to recover from. Most people don't have the time or patience to attempt the process on their own.
When your dog boards and trains with me, he can focus completely on new behaviors and habits. Learning from an experienced trainer, rather than a novice owner, is clear, efficient and enjoyable for your dog. Your dog will come back to you better behaved, more confident, and ready to join your life!